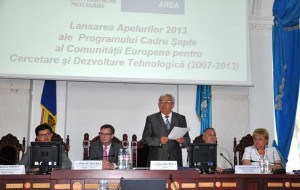 During July 9-16, 2012 the Center of International Projects in cooperation with the National Contact Points and the Department of the European Integration and International Cooperation of the Academy of Sciences of Moldova organized an informational campaign: Moldova – Member of the European Research Area, designated to the Official Launch of the EU FP7 2013 Calls for Proposals.
More then 600 representatives of the research institutions and centers, universities, Government Authorities, Diplomatic Missions, SME, NGO, Mass-Media and other institutions participated in the InfoWeek events.
Welcome speech on behalf of Acad. Gheorghe Duca, President of the Academy of Sciences of Moldova, H.E. Dirk Schubel, Head of EU Delegation inMoldova and Moldovan Government Authorities were addressed to the audience to encourage them to participate in the new Calls launched by the European Commission for 2013.
As part of a €10.8 billion budget for research and innovation agreed for 2013, the European Commission has announced an €8.1 billion euro package of calls for proposals under the EU's Seventh Framework Programme for Research (FP7). This is the final and largest ever package of FP7 calls, and is an important part of the Commission's commitment to work for growth and jobs in Europe.
The budget and work programme are agreed in 2012 and funding will be awarded in 2013 – closing dates for proposals from September 2012.The calls address key concerns faced by Europeans where action at EU level is essential. €4.8 billion will be invested in thematic areas, with specific priorities to preserve oceans and water, better use of raw materials, efficient energy, promote efficiency in the processing of biological resources, develop smart cities and tackle issues such as public sector reform, brain research and anti-microbial resistance.
Making Europe a destination for world-class researchers is another key priority. The European Research Council will invest over €1.7 billion in the best researchers and additional €963 million will support mobility through "Marie Curie Actions".
Small and medium-sized enterprises, recognised as vital for innovation, are given special incentives to participate with a total package of €1.2 billion.
All presentations made by the Moldovan FP7 National Contact Points, Official Representatives and National Experts were placed on www.fp7.asm.md